2001, Jan-
Big Magazine is recognized around the world as a New York publication that features innovative art direction, provocative photography and high quality production.
For Big's series on American cities, Exbrook was asked to direct both content and design to portray San Francisco after the 2001 dotcom bust. We conceived the theme SEARCH, which resulted in twenty photo essays by established art world photographers including Todd Hido, Richard Barnes and Bill Owens, as well as emerging photographers such as Dwight Eschliman and Noah Webb. Working with photo editor Marin Levinson and veteran editor David Weir, we intermixed these photo essays with articles by science-fiction visionary Rudy Rucker, young student writers of Dave Eggers' 826 Valencia, and other unique SF voices.
This 152-page large format book provides a in-depth view of what drives the inhabitants of the Bay Area, where so many American lifestyles, work cultures, products and trends have originated.
---
№ 1/6
№ 1/1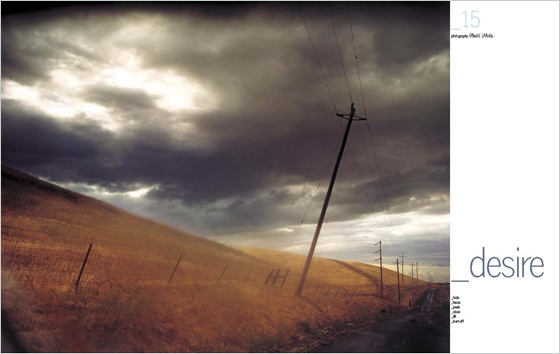 photography by Todd Hido
photography by Beth Yarnelle Edwards
photography by Bill Owens
photography by Jeffrey Braverman
photography by Olivier Laude
photography by Noah Webb
photography by Winni Wintermeyer